Getting Around
The Bus System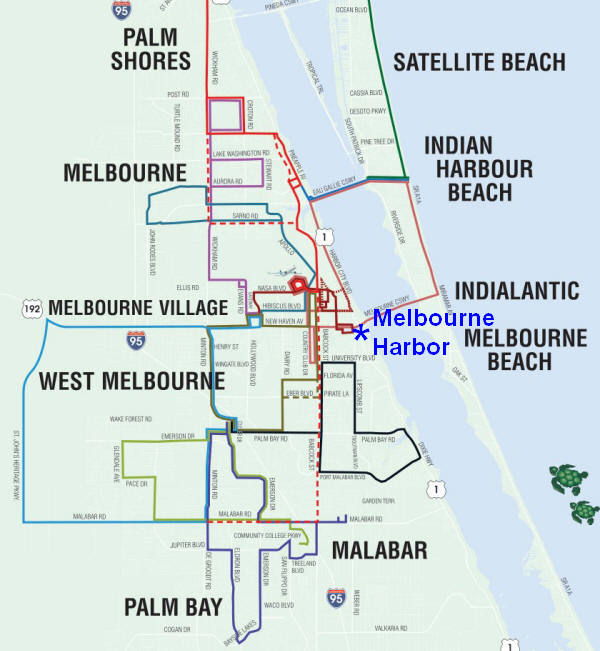 In Oct 2023, our car broke down and we used the Space Coast Area bus system for getting around Melbourne for a week. It's not like a big city system where buses come every 10 minutes, but it's not bad if you're not in a hurry.
Groceries and Shopping: The closest stop to Melbourne Harbor headed downtown is a ~10 minute walk west (towards downtown) on Melbourne Avenue (the street out the back), or if you prefer, there is also a companion stop, same distance, just off New Haven downtown. There are sidewalks most of the way on both walks, but we prefer Melbourne Ave due to not having to cross US1.
This is Route 21, which winds around in downtown Melbourne, past the Publix (fairly large grocery store) and a Laundramat at Melbourne Shopping Center, past the airport, past both Holmes Regional Hospital and Health First Medical Center, and to Melbourne Square Mall.
From Melbourne Square Mall you can get a transfer going up to Walmart and other shops in that direction (Route 29). Also from there you can catch buses going south to Palm Bay (Route 25) and west to West Melbourne (Route 20).
Buses run weekdays hourly or on the half hour depending on time of day. Weekends it's less regular, and some routes don't run at all on Sunday, so check the online schedule.
Going to the Beach: The closest most convenient stop to Melbourne Harbor headed east toward the beaches is also the stop ~10 minutes walk west on Melbourne Avenue. This is Route 30, which runs hourly. (see detailed weekday and Saturday schedules on the Route 30 link).
This goes over to Indialantic Beach, runs about 4 miles up A1A to the Walmart shopping center, and comes back across to the Eau Gallie section of Melbourne.
Fares: Full fare is $1.50 and you can buy e-tickets online using an app, or use cash, or obtain physical tickets in certain places (see website for details). They do transfers (ask on each bus as you get off for a transfer pass for the next bus), so you can ride from downtown Melbourne all the way to Por Canaveral for a single fare (ie anywhere the bus system goes).
Students at local colleges can ride free and there is a $.75 discount fare for over 60's, and military. However, you have to register on the website (and upload id documents as proof) and it takes a couple of days for this to be approved. Approval comes by email (and I think an ID card should arrive eventually in the mail). Details here.
If you are a Melbourne city resident, I believe the #21 bus is free by showing an ID, though I didn't find that info anywhere on the website, but a rider and a bus driver both told me that was true.
Apps that you should have:
Google Maps (worked very well if you change the directions page to "transit" rather than driving). Just put in your start location and your desired endpoint, and it will show you where to catch the bus, what route it takes, transfers, and what stop to get off on. There are settings in Maps that let you specify for the route "less walking" or "fewer transfers" or "quicker". Google seems to know the bus schedule (but the bus tracker is more accurate).

321 Transit Bus Tracker. This has a "live view" of where each bus is, useful if you are standing at a stop wondering when/if the bus will come. It shows a map, and each bus on the route you are looking for.

Token Transit. This is the app needed to buy passes online. This app is used by many bus systems, so when you install, you'll need to chose the bus system "Space Coast Area Transit". The first time you use the app after downloading, it will give you a free pass (don't ask for the free pass until you are soon to get on the bus, it has an expiration time of 2 hrs). The app will keep prompting you each time you open it until you claim that free pass.
It IS possible to ride without a smartphone. You can pay cash for your fare and there are paper route maps on each bus for that bus and nearby routes.
The bus will ONLY stop at designated stops.
The buses are clean and air conditioned, and they seemed safe.
Buses are equipped for bicycle, surfboard, and wheelchair use.
It's pretty easy. I went on my first bus ride totally unprepared (without all the tips above). The bus drivers were nice, the riders were nice. Everyone was helpful.
Rental Car Companies
The Melbourne Airport has the following car rental agencies on site or nearby:
Avis, Hertz, Alamo, National, Budget
(321) 723-7755
(800) 831-2847
(321) 723-3414
(800) 654-3131
(321) 723-3035
(800) 327-9633
(321) 723-3035
(800) 227-7368
(321) 723-0284
(800) 527-7000
Bob's Bicycle Shop (Bike Rentals)